LIVE 2013 will start with a bang, featuring three speakers with deep roots in the history of live programming. Steve Tanimoto will be revisiting his framework on "liveness" and thoughts on new levels and directions.
David Ungar and Randy Smith will be jointly talking about the hugely inspirational systems ARK and Self.
Thor Magnusson will be speaking about the history of the live coding music scene and his newest live coding system.
Steve Tanimoto Revisits Liveness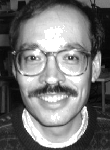 Liveness in programming environments generally refers to the ability to modify a running program. It can be considered as a form of a more general class of behaviors that are various forms of information to programmers about what they are constructing. This paper gives a brief historical perspective on liveness and proposes an extension of a hierarchy given in 1990, to now account for even more powerful execution-oriented tools for programmers. In addition, while liveness concerns the timeliness of execution feedback, considering a broader array of forms of feedback is helpful both in better understanding liveness and in designing ever more powerful development tools.
Full paper will be posted after conference.
David Ungar and Randall Smith Reflect on Self